Story
"I love Feteasca Neagra because it resembles the Romanian people so much: something that very few believe in yet hiding a huge potential.
Fifteen years ago, when I set out to obtain the best Feteasca Neagra, people considered me a crazy romantic. What was the status of Feteasca Neagra back then? A low-end local variety that nobody expected anything from. Yet I continued to work and believe in it.
Today, it is with immense joy that I sign APOGEUM, a Feteasca Neagra in its fifth year, created in the heart of the Dealu Mare region from a 50-year-old vine. With recognition and medals on three continents, APOGEUM is produced in a unique way in Romania, in ceramic amphoras located on the former estate of Prince Nicolae of Romania.
I dedicate this wine to the Romanian people, to its hidden genius; and I also dedicate it – I must admit – to my stubbornness."
Virgil Mândru
Owner APOGEUM Wine Cellars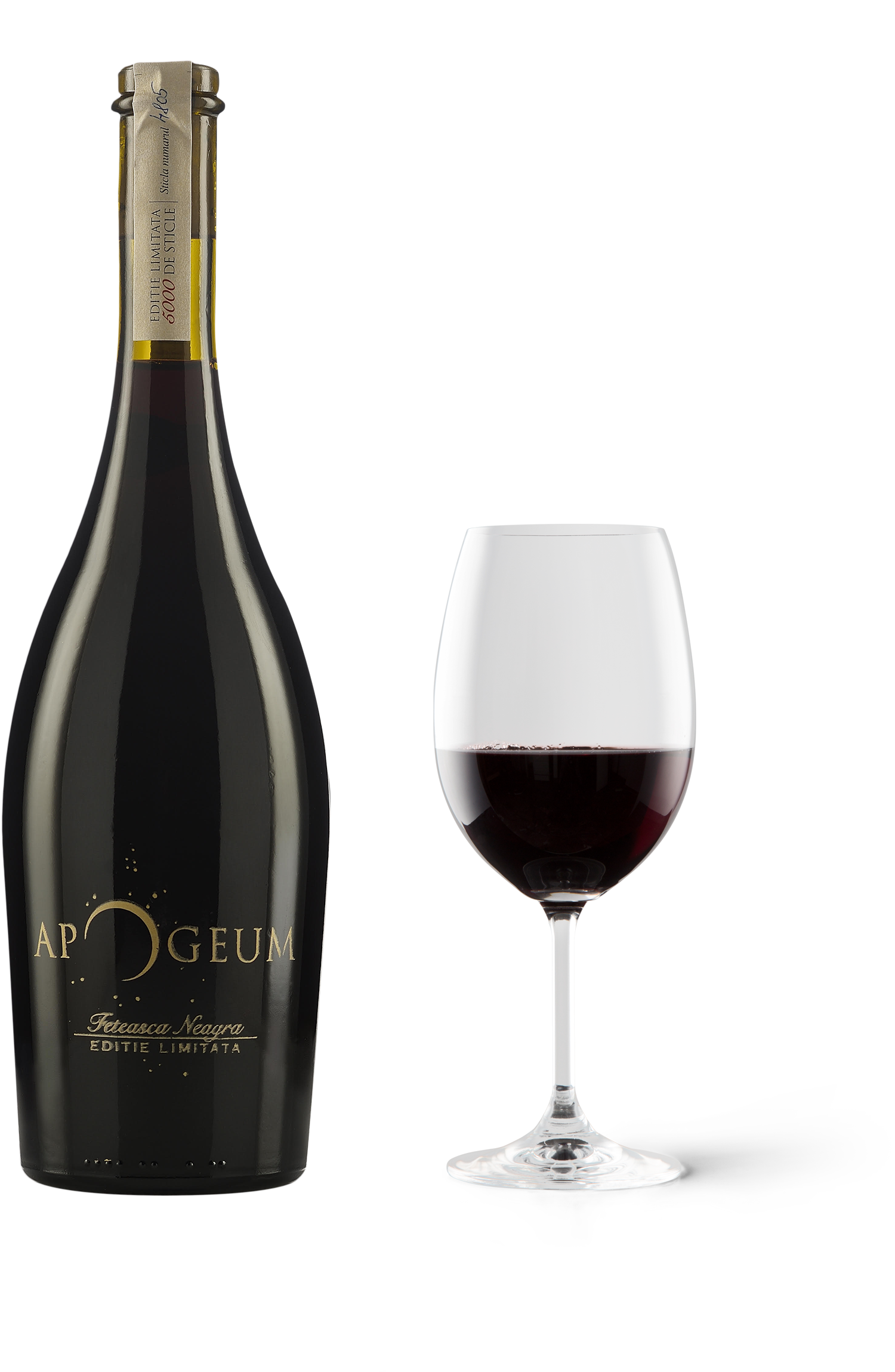 Wine
Precious and noble, APOGEUM is a unique wine, obtained with 2000-year-old methods from an old vine located in one of the best wine areas in Romania – Dealu Mare. APOGEUM carries a strong emotional and personal charge. A signature wine, this Feteasca Neagra acclaimed on three continents is the results of a life's work: that of Virgil Mandru, the owner of the wine cellar.
Fetească Neagră
Winemaking method
Originating from a 50-year-old vine located on Southern hills with chalky soil and very few rains, the grapes of Feteasca Neagra give birth to this rare, unique wine – APOGEUM.
The production is small – 5-6 tons/ha, harvested manually. The grapes are selected in the vineyard, harvested at the best time, transported with a lot of care at the winemaking facility. APOGEUM, the wine, is obtained in the cellar by the same name; it is an historic cellar that hosts ceramic amphoras and grapes selection systems. It all happens with a lot of love and care: natural lees that are specific to the Dealu Mare area, manual repairs of the musts, slow and long maceration-fermentation at optimal temperatures, with the purpose of obtaining the trademark flavors of dry plum, jam, berries and black blueberries. After 15-20 days, once the alcoholic fermentation is done, the amphoras are prepared for the second fermentation, the malolactic fermentation. That is when the wine starts to fully reveal its amazing traits.
Once this stage of the young wine's life is over, APOGEUM is gravitationally introduced in new, French oak barrels.
The 24 months of resting in the bariques and the 12 months in the bottle give the wine touches of elegant maturity, expressed in an explosion of lovely flavors (oak, vanilla, chocolate, coffee), soft tannins that prove the value of a special and rare wine.








For placing your order, please fill in this form.
Contact
Crama APOGEUM
Gura Vadului, Jud. Prahova
Tel: 0744 638 779